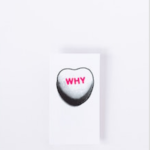 ©2020 Susan Noyes Anderson

image by Patrick Perkins on Unsplash
This is the why poem,
The why-did-you-die poem,
The why-did-you-have-to-be-
stuck-in-the-eye poem,
The why-were-you-never-
made-well-only-worse,
The were-you-unlucky-
or-was-it-a-curse,
The you-deserved-better-
but-you-didn't-get-it,
The you-were-a-target-
and-I-can't-forget it,
The why-were-you-given-
such-gifts-and-then-tied-
by-the-burdens-and-sorrows-
you-carried-inside poem.
I don't expect answers.
I do want relief.
I'm the mom-who-asks-why,
feeling stuck-in-my-grief.
∞§∞
If this poem about grieving and anger resonates with you, you might also relate to my poem, You Gave Enough. For more poems about grieving and loss, click here.
Tags: bereavement, child loss, death, death and anger, death of a child, grieving, mourning