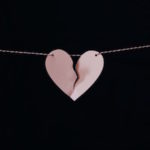 ©2019 Susan Noyes Anderson

Image by Kelly Sikkema on Unsplash
My heart imploded yesterday
from a surprise attack,
its cause so seemingly benign
my mind keeps going back.
A site familiar to my eye,
the scene so commonplace,
I had no inkling I would leave
with tears upon my face.
We simply came to break our fast
("heartbreak" not on the menu).
Still, had there been a warning,
I would not have changed the venue.
Under a nearby booth: Rainbows,
supporting high-arched feet;
a runner's leg, with khaki shorts
worn just below the knee.
A fantasy of hope, up-glance
followed by seismic jolt.
The beard, the hair, the chiseled nose
struck hard, a lightning bolt.
Of course, I knew he was not Todd;
but this, my first false-sighting,
was sweet and bitter…sadly, more
dejecting than delighting.
I took a moment, looked my fill
and then, that moment gone,
picked up the joy of life, the weight
of loss, and carried on.
Such a hard journey to travel, this path of grieving our lost loved ones. Find more of my poems about death and loss here.
Tags: bereavement, child loss, death, death of a child, grief, grieving, loss, mourning