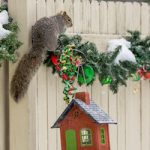 ©2012 Susan Noyes Anderson (poem only)

Photo by Robin Lyon on Unsplash
Beware the charming Christmas squirrel.
He gathers nuts and such.
His look is soft and fluffy, but
don't trust the rogue too much.
His scampering about is
calculated to confuse.
Those button eyes, that bushy tail
are but a clever ruse.
And now he's wearing Santa's cap
upon his scheming head.
Do not be fooled, my friends. He should
be viewed with creeping dread.
I'm outing him. Right here and now.
The rascal wrecked my ceiling.
He chewed right through without a thought,
devoid of Christian feeling.
Look at him! All up in our faces,
acting like a saint.
He's just a fat rat with a tail,
and don't you think he ain't!