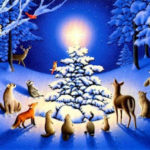 ©2016 Susan Noyes Anderson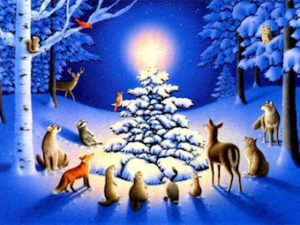 The creatures of the forest
were gathered all around.
The day was Christmas morning.
Soft snow lay on the ground.
A blue spruce stood as tall and proud
as any Christmas tree,
but pine cones were the only gifts
the animals could see.
Who-o-o took my present? cried the owl.
Where's mine? the chipmunk wondered.
The rabbit wrinkled up his nose.
They're gone, the brown bear thundered.
No gifts. No gifts, the squirrel chattered.
Wolf howled at the dawn.
How can it be? the cougar wailed.
Oh, where has Christmas gone?

The noble elk stepped forward
and raised his antlered head.
Some gifts cannot be taken from us;
God gives them, he said.
Wisdom is yours, he told the owl,
and vision in the night.
Chipmunk has much resourcefulness;
and Rabbit, speed in flight.

Bear's blessed with strength, and Wolf is clever.
Cougar's claws protect.
These gifts to us are priceless treasures,
worthy of respect.
Squirrel excels at gathering.
As we now gather here,
may Christmas bring remembrance of
God's presents we hold dear.
Our Father gives good gifts to us.
In glad hearts, they are found.
When we receive His Son with love,
it's Christmas all around.