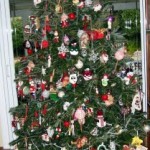 ©1993 Susan Noyes Anderson

We're picking out a Christmas tree.
Oh boy, I just can't wait!
December 25th is near––
It's time to celebrate.
The family piles into our car
and finds the biggest lot.
"Let's get the best," my mother says,
"the very best they've got!"
But this one's crooked, that one's short,
and those are almost dead.
The rest have broken branches, holes,
or something worse instead.
Five hours pass and still no tree;
my dad's about to break.
"You want the perfect tree?" he growls.
"Then let's go buy a fake!"
∞§∞
Buying a Christmas tree is certainly not for sissies!
If you enjoyed this poem, you might also like another this one titled, Thanksgiving Prayer.