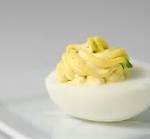 ©2013 Susan Noyes Anderson
Whenever I'm in search of feed,
a deviled egg is all I need.
This worries me, because I fear
it's angeled eggs I should revere.
Would it be blasphemy to say
that deviled yolks, far and away,
are more divine than angeled types?
Hey, truth is truth, but holy cripes!


Might I be smitten with a curse
if I reveal, chapter and verse,
that deviled eggs are my delight?
The notion fills my soul with fright.
(And yet, I'll risk another bite.)
Don't judge me. I won't sell my soul.
I shall eggs-act some self-control.
Tags: cooking, humor, temptation