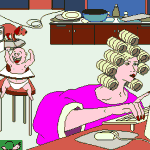 ©2000 Susan Noyes Anderson, Sunshine for the Latter-day Mother's Soul, Eagle Gate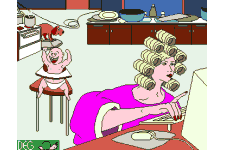 Just for a change I'd like to make
a change this very day–
I'd like to do the things that all
those mothering books say.
I'd like to give up yelling and
perfect the old "I" statement.

(Not "Turn that racket down!") …
but "I'm in need of noise abatement."
(Not "Talk back once more and you're toast!") …
but "I demand respect."
(Not "Brush your teeth, or die!") …
"I fear your hygiene is suspect."
I'd like to be the kind of mom
who gets the kids to clean
(and they all end up having fun,
and no one thinks you're mean!).
I'd like to be the kind who gets
the dinner on the table
and never has to set it 'cause
her children are so able…
And willing, oh, I'd like to be
the kind that makes them willing–

I'd write a how-to book, and
would I ever make a killing!
I'd sort of like to be the type
who's frugal as can be
and manages her time so well
she's always home by three.
The kind whose kids are never spoiled
because they love to work,
who think a kid who asks his mom
for money is a jerk.
I'd really like to be that kind––
and, oh, just one more thing…
I'd like to be the kind who's never
freaked by anything.
The kind who always keeps her cool,
no matter what goes down.
The kind who can control her kids
with one look, or one frown.
(Or two looks or two frowns, or even
one big burst of words!)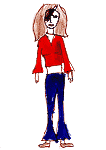 I'd like to be the kind who looks
real hip, but not absurd.
In short, I'd like to be a mom
who's good as good can be.
The only problem is, how would
my children know it's me?
Tags: children, cleaning up, cooking, humor, mother's day, mothers, parenting, service