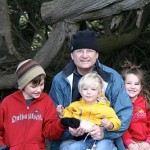 Grandpa's A Really Good Guy,
Oh My!
©2010 Susan Noyes Anderson

Grandpa's a really good guy.
He knows how to make a kid fly.
He fills up his jeanses
with bright jelly beanses
and blasts our blood sugar sky-high.
~ the end ~
but not the end
∞§∞
"Grandfathers are just antique little boys." – Author Unknown
"The simplest toy, one which even the smallest child can operate, is called a grandparent." – Sam Levenson
"A grandfather is someone with silver in his hair and gold in his heart."
– Author Unknown
"Nobody can do for little children what grandparents do. Grandparents sort of sprinkle stardust over the lives of little children." – Alex Haley
If you enjoyed this poem, you might also enjoy Button Nose and All in the Family.
Tags: Father's Day, fun, grandchildren, grandfather, humor, limerick, love