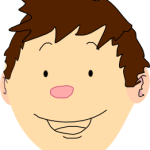 ©1993 Susan Noyes Anderson (poem only)

I've got the nose of Uncle Gene,
the eyes of Grandpa Fred,
the mouth of Aunt Virginia, and
the chin of Cousin Ted,
the hair of Grandma Applegate,
the Okelberry ear…
I hope they never take them back.
My head would disappear!
∞§∞
Quite a quandary for this young man, isn't it? Let's hope his relatives don't decide to make a run on his various "borrowed" features any time soon. Mom probably wouldn't appreciate having him do a disappearing act at this tender age…and his school might not be too happy, either.
If you liked this poem, you might also enjoy reading Bathtime Buddies.
Tags: family, family resemblance, genes, humor, relatives