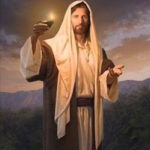 ©2022 Susan Noyes Anderson

Art by Simon Dewey
We hear at times a distant voice,
distilled upon the heart:
"I have a work for you, my child,
a masterwork of art."
His call is soft, familiar, so
we rise to meet the day.
What would the Master have us do?
What would He have us say?
Our yearning is to offer Him
the best that lies within,
to grow a life of conscious choice,
let go a life of whim.
We long to change the world for good
in lasting ways that matter:
to lift the sorrowing spirit up,
to make the sad soul gladder.
But days are full and hours are short
and time moves ever on.
Too often, plans are swept aside.
Too soon, the light is gone.
Thus are we left to feel our limits,
not our majesty,
each yearning dashed as we reveal
our own humanity.
And fraught with criticism,
we count every weakness shown.
We failed to do God's work; we failed.
We left Him on His own.
But God's work is not done for Him,
we do it for each other…
and for ourselves…for all are blessed
when we bless one another.
To mark ourselves as failures
ties our hands and binds our hearts.
Forgiveness is the fuel God gives,
forgiveness and fresh starts.
The masterwork that we perform
is work that sets us free:
to reach for Him, to rise and claim
the best that we can be.
Becoming happens when we live
in our divinity.
∞§∞
Last Sunday, a good friend's sacrament meeting talk inspired a line of thought that I wanted to get down on paper. I share the resulting poem here because the message feels as important to me after sleeping on it as it did yesterday. We all need to breathe in, believe in, make a home and live in our own divinity. "Human" is only one part of who and what we are. As God's children, we do well to remember that.
If this poem resonated with you, you might also enjoy He Prayed; We Pray.
Tags: Christ, discipleship, divine nature, God, God's work, loving ourselves