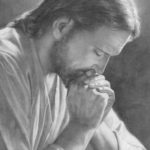 ©2020 Susan Noyes Anderson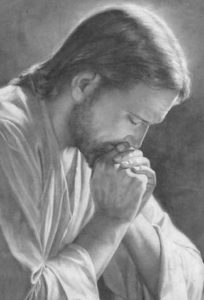 Jesus Praying, by Joseph Atta
The Savior's life was lived in prayer,
a custom born of love and need.
So many pains were His to bear,
so many causes His to plead.
He offered God unyielding trust,
submission, and humility.
Christ counted every burden just,
obeyed His Father willingly.
He taught us all the heart can know
of wisdom, truth, and godliness.
His gentle hands were never slow
to ease God's children in distress.
Then let us not forget His own,
the deep distress that was His fate,
the plight He came to meet alone,
bowed low by its consuming weight.
As God and man, our Father's Son
was never born to majesty.
His mission was a servile one,
His brutal death a travesty.
The choice was His alone to make,
Christ's blood would pay our ransom price.
His life was His, no man's to take;
yet He endured the sacrifice.
Remember well Gethsemane,
when Jesus bled from every pore.
He met that trial on bended knee,
His Father's mercy to implore.
He prayed again upon the cross,
to question God and then accept.
Prayer strengthened Him to pay the cost
and sealed the promise that He kept.
When darkness looms, when hope recedes,
recall His faithful hands, clasped tight.
The Lord will bless us, meet our needs,
and bring us back into His light.
He prayed…we pray…to make things right.
∞§∞
When hard times settle in, as these Covid times seem to be doing, the Savior's living example and loving counsel was and is to pray. I ran across this image of Him, beautiful in its simplicity, and a poem was born of the message it spoke to me. If it resonates with you, you might also enjoy reading What Will We Give and What Does It Mean?
Tags: adversity, atonement, Christ, discipleship, Easter, prayer