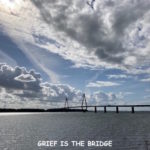 ©2022 Susan Noyes Anderson
I know it's true, of course––quite real;
yet somehow, I can't help but feel
that nothing else is real if you are gone.
The world is shadowed in my heart,
a soft gray dream, a bleak restart,
dismissal of the notion life goes on.
Ah, but it does; the proof abounds,
surrounding me in sights and sounds,
and every morn another wistful dawn.
The mourning mine to hold at bay,
await the shift and forge a way,
for you've already crossed the Rubicon.
My heart crossed with  you…one bright  part,
endowed to love you from the start.
It beats in two worlds now, hither and yon.
And grief the bridge this mother walks upon.
∞§∞
One of the hard parts about losing my son is the feeling of being in two place at once, here and where he is, without being able to do either one of them justice. I am seldom fully here or fully there, often betwixt and between, frequently bewildered.
If this poem resonates with you, you might also enjoy The Keening and The Summons.
Tags: bereavement, child loss, death, grief, loss, mourning