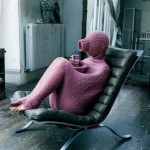 ©2013 Susan Noyes Anderson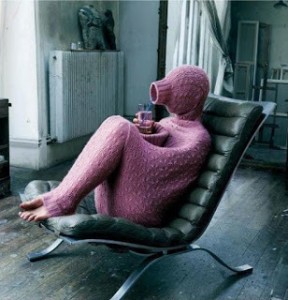 Don't like my style?
Then run away.
Don't shake your head.
Don't have your say.
Don't smirk; don't frown;
don't chap my hide.
Don't humor me
in shades of snide.
I live with you.
But I'm still me.
Don't crowd my space.
Don't cramp my free.
Don't patronize
with cheshire smile,
sugjesting I
should try argyle.
Keep your opinions
in your head.
Or I will wear
this thing to bed.
∞§∞
I think you will agree that the independent woman can be prickly in love, especially if she's wearing an itchy wool sweater to bed every night. That's the kind of threat than can make a man tremble in his boots! Isn't this a rare picture? It's also a good reminder that a woman who doesn't feel respected in her relationship just might wrap herself up so tightly her partner will never find his way to her heart. Far better to admire her for the little things that make her unique. After all, who wants a cookie-cutter copy of anything? Or anyone, for that matter…