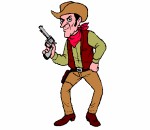 ©1992 Susan Noyes Anderson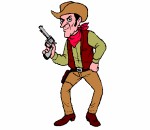 Take all yore shit and git clean off my land;
that hog I raised is better company.
At least he knows to let a feller be
and plays a sucker straight, not underhand.
My butt could only buck beneath yore brand.
I've felt them spurs a-diggin', chickadee.
There'd be no peace till I was on one knee,
proposin' doggoned marriage, like you planned.
That's it now. Adios, gal. Shoo, fly, shoo!
A man's a man and oughta act the part.
There's plenty other things I aim to do.
You ain't about to spill my apple cart.
No highfalutin' female like you
will ever put a lock-up on my heart!
Tags: breaking up, dating, freedom, humor, love, lovers quarrels, man, romance, woman