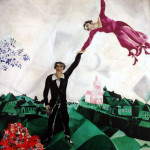 ©2013 Susan Noyes Anderson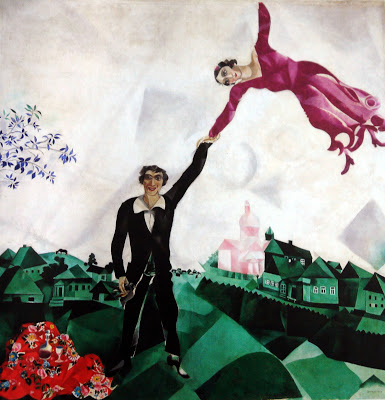 Image: The Promenade by Marc Chagall
Hold me down when I feel flighty.
Lift me up when I'm earthbound.
When in doubt, just take a chance and
swing this partner round and round.
Try your best to make me happy.
Do your worst to make me sad.
Either way, don't bore me silly.
Make me feel things, good and bad.
Stir the pot or smooth things over.
Be the charmer and the chump.
Careful, though, don't lose your balance,
or you'll find out I can jump.
∞§∞
Don't you love this image from Chagall? Love is a crazy ride at best, but I'm sure we can all agree that it's one well worth the taking. And if we are fortunate enough to find somebody willing to keep his feet on the ground so we can fly, so much the better. Sometimes, of course, we will need to return the favor.
Of course, the important thing is managing to keep our balance in the midst of it all, which is no small feat!