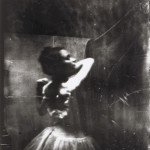 ©2013 Susan Noyes Anderson
Image: ballet – Danseuse ajustant sa brettelle by Edgar Degas
It's music I remember most of all.
Soaring strains of winged Tchaikovsky,
brought to earth by steady beat
of wooden cane against a parquet floor.
The ballet mistress, mean with added weight,
despised her torpid flesh and tortured ours.
Through us she danced, each arabesque
a thrust against our firm yet fragile borders.
I foiled each foray, held her off with
grand battement, changement, changement, changement.
Her face was rouge, piqued by my piqué turns.
She chastised us for nibbling a cruller,
gorged herself on crepes and jam.
Tags: art, ballet, dance, discipline, teacher