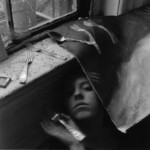 Farewell the King of Spoons
©2012 Susan Noyes Anderson
Image: It Must Be Time For Lunch Now by Francesca Woodman
It must be time for lunch now,
but I think I'll take a pass.
It seems the king of spoons just tried
to knock me on my ass.
Our roads were joined together once.
The fork is now at hand.
I'm all fed up in ways that tool
will never understand.
I do not want his silver, nor shall I have the knife.
This fork has all she needs to take
another stab at life.