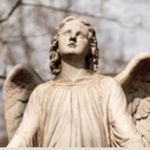 Reflections from an Angel Son
©2020 Susan Noyes Anderson
image by Ralf Skirr on Unsplash
A breeze as gentle as could be
rose high above the northern sea,
slipped far beyond a starry sky,
and brushed me with a tender sigh.
It ruffled softly through my hair,
left lilting bits of sweetness there,
each dear, familiar melody
awash in love and memory.
A sudden gust of feeling came
and almost I could hear my name,
a warm caress, a mother's tone:
"Fly home to me, my child; fly home."
And so I flew on stardust wings,
with all the love that heaven brings,
back to a world where grief and pain
assail the soul in endless rain.
Pale moonlight framed my mother's face.
She stood in reverence, touched by grace
and wrapped in sorrow, mourning me.
I only wished her eyes could see.
Instead, my spirit circled round
infusing her with hope unbound
and sang to her an angel's song
of love, enduring on and on.
Whispering words into her ear,
soft secrets only she could hear,
I shared the longing of my heart
for days when we need never part.
A smile lit up her eyes at last.
Our time together nearly past,
I thanked her for my life on earth
and for the blessing of my birth.
My mother's hands reached out for me.
"You're here," she uttered joyfully.
I wanted so to linger there,
extend this answer to her prayer.
But heaven always calls me home;
again, I left her all alone.
And yet, somehow, she carries me
in spirit and in memory.
My mother's love will never cease,
nor will my flights to bring her peace,
until our souls can reunite
and live forever in God's light.
Oh, would that I might ease her tears
until that wondrous day appears!
∞§∞
If this poem resonated with you, you might also enjoy reading its prequel, Homecomings and Goings. Find more poems about grieving and loss here.
Tags: angels, bereavement, child loss, death, grief, mourning