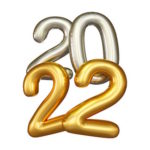 ©2020 Susan Noyes Anderson

image by Eyestetix Studio on Unsplash
Another year has come and gone…
another decade, too.
The message is that life goes on,
no matter what we do.
Some years are glad; some years are sad;
some years are in between.
Some years get right up in your face;
some creep away unseen.
They build us up; they break us down.
They make us old, then older.
Some years lean warm and fuzzy;
other years turn bleaker, colder.
But all is as it should be,
both the bitter and the sweet;
and only the full package serves
to make our lives complete.
So welcome, 2020!
We're not sure how you will treat us.
We'll look for sun, but if that fails,
we won't let storm clouds beat us.
It takes a lot of living
to become all that we are,
and happy with no crappy
wouldn't get us very far!
∞§∞
If this poem resonates with you, you might enjoy Resolution Schmezolution and/or New Year Glee, two other poems of mine on the subject.
Tags: 2020, acceptance, balance, expectations, life, New Year's Day