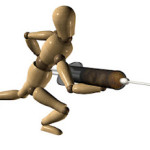 ©2012 Susan Noyes Anderson

Saying goodbye was harder than she thought,
but then, it's true she rarely thought at all.
She acted and reacted, forged ahead,
kept moving, praying that she wouldn't fall.
His words coiled round her heart, hissed in her mind.
She ran from feeling, ran from failing, too.
He stole whatever peace there was to find,
left her in shattered pieces, old and new.
On hands and knees she picked those pieces up,
put them together, owned them one more time.
His soul was bitter coffee in her cup—
she drank him down, choked on the muddy grind.
Tasting the toxic in intoxication,
she swore an oath to ne'er indulge again.
Her days with him, she named Inoculation,
and (l)earned, at last, immunity to men.
Tags: adversity, anger, breaking up, divorce, love, marriage