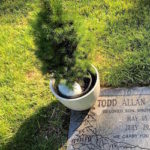 ©2021 Susan Noyes Anderson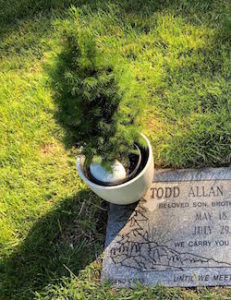 The spruce tree missing from your grave
brought me to ground.
Another loss I could not save,
a low blow some thief blithely gave,
the superficial turned profound.
A small thing, surely, just a tree
inside its clay pot, not earthbound.
Removed from me in mystery
to disappear relentlessly
without a trace, without a sound.
And no more found.
∞§∞
If this poem of someone having stolen the tree in this picture from my son's grave resonated with you, you may want to read "On Signs and Mysteries," which gives a more detailed (and positive) view of the same experience. "One Tender Mercy" also offers a more hopeful telling of the story.
Tags: bereavement, child loss, death, grieving, loss, mourning, triggers