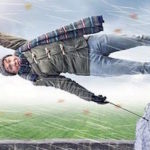 ©2021 Susan Noyes Anderson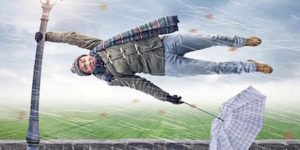 My years of life have made me tough.
But lately, it's been kinda rough.
I've rocked the highways, low ways, byways.
Nowadays, things seem sorta sideways.
I'm okay, no big lament.
Umbrella bent, I'm far from spent.
But am I right or am I wrong?
Is "inclement" a word too strong?
I wouldn't want to overreach,
but this wind's blowin' like a b-each
(or -itch). Wait, never mind. That's crude.
My mama didn't teach me rude.
She didn't teach me whining, either.
(Guess I'd better take a breather.)
First, though, can we all agree
that sideways ain't no place to be?
∞§∞
I think we all feel a little sideways just now,
and this image really summed that up for me.
Hope you don't mind my having a little fun with it.
(And may the Covid storm front blow itself out soon!)
If you enjoyed this poem, you might also relate to Pinch Me, Please.
Tags: adversity, Covid, humor, life, overcoming, storms of life