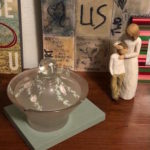 ©2021 Susan Noyes Anderson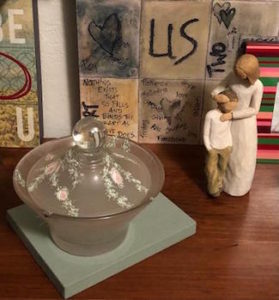 The little book you gave to me
about a lovely giving tree
has rooted on the polished wood
that holds the tomes my heart deems good.
Atop it rests an heirloom rare,
Great Grandma's candy dish, and there
my eyes are drawn devoid of will,
like blackbirds to a window sill.
Blackbirds are harbingers, they say,
that sorrow may be on its way.
The book was harbinger as well,
a sweet goodbye before you fell.
You didn't know it was goodbye.
Inside, you wrote of how we'd fly
together through life's highs and lows,
keeping each other safe and close.
One day, you hoped to care for me,
assume my role as giving tree,
and walk me through the golden years…
lighting my eyes, drying my tears.
No Christmas gift could touch me more;
and yet, I never gave, before,
enough attention to its heart.
I loved it, but I missed a part.
The part where your heart opened wide
and gave me one, long glimpse inside
its private chambers, rarely shared,
revealing my own presence there.
Ah well. You knew that I was moved.
And now you know the book has proved
to be a gift that's seen me through
the misery of missing you.
For every time I turn my face
and see that small book in its place
beneath Great Grandma's milk glass bowl,
I feel you deep within my soul.
And as I read each note you penned,
I know you found a way to send
the comfort of your voice, reheard
through every tender, loving word.
Oh, what a gift you gave to me,
for you became my giving tree,
my far-off angel who draws near
and whispers what I need to hear
in love notes, from a distant sphere.
If this poem resonates with you, you might also relate to "A Slice of Joy."
Tags: angel child, child loss, grief, losing a child, Mother and child, spiritual connection after death, The Giving Tree