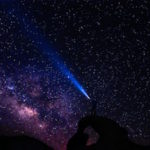 On Light, Solitude, and Covid19
©2020 Susan Noyes Anderson
image by Clarissa Meyer on Unsplash
Solitude is so much sweeter
when it isn't forced,
when it is freely sought
and freely ended.
Let all be mended.
A night of silence calms the soul
until the dawn goes missing,
turns quiet mind to field
of falling stars.
The power is ours.
Then gather stars on hopeful feet
and let them shine forever.
Above us or beneath us,
bright is bright.
Things will come right.
And solitude cannot
eclipse the Light.
∞§∞
When loss steals the stars from your skies,
don't surrender the ones in your eyes.
I think Thomas Paine's words, "These are the times that try men's souls" apply perfectly to our day and the global challenge of Covid-19. This poem reaches for a sense of self-determination and hope in a world that seems more than a little bit off-kilter just now.
If this poem resonates with you, you might also enjoy Is Safe a Thing? Other related poems are pictured below.
Tags: adversity, coronavirus, covid comfort, Covid isolation, freedom, hope, illness, loneliness, overcoming, pandemic, solitude, stars