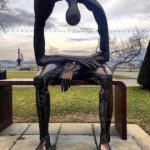 Notes on Grief: The Second Year
©2020 Susan Noyes Anderson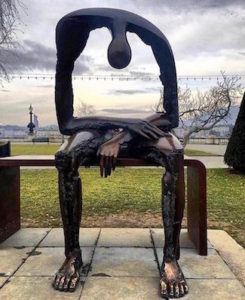 Sculpture: Melancolie, by Albert Gyorgy
A new level of missing you
has settled on my heart.
Year two, and I am still undone
by living life apart.
Reality has come to stay;
the world goes on without you.
But my world is forever changed,
shaded by thoughts about you.
I feel your absence in my core,
a part of me quite gone,
a piece so vital I must learn
a new way to go on.
Bereft, I try to draw you close,
but time just makes that harder.
As months go by, the space between us
seems to stretch out farther.
It's not what I expected, for
I truly did believe
connection was an art that
I could master as I grieved.
I thought it would get easier,
convinced I'd find a knack
of keeping you so near me
it would all but bring you back.
Yet while sometimes I feel your spirit,
present as can be;
it's not as often as I'd like,
not near enough for me.
I'm told that I should just let go;
and in some ways, I do.
But my heart never will release
the piece of me called You.
(I think that's as it should be,
trust in God to see us through.)
∞§∞
For more poems about grief and loss, click here. If this poem in particular resonates with you, you might also relate well to The Tragedy Lives On.
Tags: bereavement, child loss, death, grief, losing a child, mourning