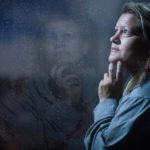 ©2019 Susan Noyes Anderson

image by Cheron James of Unsplash
To grieve is a life lesson,
long in the learning.
The days carry forward;
the wheels keep on turning.
And I've found an instinct for
managing sorrow.
I stay in the moment,
no thought for tomorrow.
Still, moments feel heavy
just fourteen months out.
I ask for some clarity,
pray for more clout
to withstand the worst feelings
of loss, when they rise;
for when memory ambushes,
pain multiplies.
I have stumbled on something
to brighten this view,
a gift from my Savior
that shines bright and true:
an endowment of knowledge,
a witness of grace
that shifts sudden tears
into soothing embrace.
When my heart is besieged and
my need waxes strong,
when the grief feels so fresh
I can hardly go on,
I'm beginning to think
that my son has drawn near,
and I whisper in spirit voice
for him to hear:
Are you right beside me?
Please tell me it's true.
Draw closer and comfort me;
I'm missing you.
And then, sorrow breaks
into sweet strains of joy,
a tender hello from
my not-so-lost boy.
Grief is love unexpressed,
lacking somewhere to go.
When the feeling intensifies,
I've come to know
I can either fall into
a pit of despair
or climb out and acknowledge
my loved one is there.
Todd is present, not absent.
On that, I will rest.
The veil is in place, but
he still does his best
to be with me in spirit.
Why greet him with pain?
When my heart fails to find his,
he visits in vain.
Far better to welcome him,
turn grief to gain.
If this poem speaks to your heart, Love from Heaven and Holding Hearts will likely resonate with you as well. May the Lord bless you with increased peace.
Find other related poems below, or for more poems about grief and death, click here.
Tags: bereavement, child loss, grief, life after death, mourning, spiritual connecton