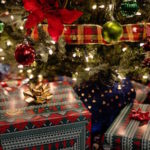 ©2018 Susan Noyes Anderson
image by Clint Patterson on Unsplash
Christmas shopping has begun,
but now I shop for three,
another sad reminder of
the way things used to be.
Your brothers and your sister
still adorn my Christmas list,
but your name is no longer there
and you are sorely missed.
It's hard to find my Christmas joy
without you here to share it.
Sometimes my heart feels such a loss,
it seems I cannot bear it.
But then the Spirit speaks to me
in words that bring relief,
reminding me that Christmas means
much more in times of grief.
For Christ was born to give that Gift
no other gift exceeds,
and knowing you are on His list
is all this mother needs.
For more of my poems about child loss, grief, despair, and hope after the death of a beloved family member, click here. Related poems are pictured below.
Tags: bereavement, child loss, Christmas, death, grieving, holiday grief, mourning