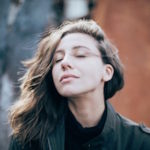 ©2019 Susan Noyes Anderson

image by Eli Defaria on Unsplash
I know that you are busy now
with things to learn and do and see;
but when you find some extra time,
might you draw close and bide with me?
Are you, perhaps, allowed to serve
as "angel" when I miss you most?
If heaven's visitor you are,
may I be your adoring host?
My heart and spirit tell me yes,
for I have felt your lightness near.
You soothed my soul as I prepared
for Thanksgiving, devoid of cheer.
I thought to spend Wednesday alone
preparing gravy, yams, and such.
Instead, you kept me company,
a presence I could almost touch.
Thanksgiving came: your favorite meal.
Beside me? Just an empty chair.
But when grief threatened, love rushed in.
Again, I felt your spirit there.
I smile to think of you as angel,
yet I do not need a name.
If I can feel you by my side,
for me, the meaning is the same.
∞§∞
I'd like to feel my son's presence more often than I do, but I realize such moments are special blessings and will not be experienced all the time. He has his own road to travel without worrying overmuch about everyone down here. With that in mind, I'm trying to maintain a spiritual relationship with him that will sort of bridge the gap on a daily basis through brief connections, flashes of memory, and tender feelings. I think I am headed in the right direction, but I will cherish those times, however rare, when he is fully (and undeniably) present.
If you relate to this poem, you make enjoy these as well: The Song of Grief, Reflections and Reminders, and Without You. For more of my poems and death, loss and grieving, click here.
Tags: angels, bereavement, death, grieving, holiday grief, lost loved ones, mourning