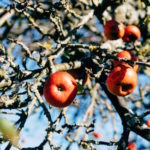 Reflections and Reminders
©2019 Susan Noyes Anderson

image by Markus Winkler on Unsplash
New Year's Eve, and a wave of grief
carries me back in time,
back to the days when the air was sweet
and the fruit was on the vine.
The skies were blue; the skies were gray,
but what I loved was mine,
back in the days when the air was sweet
and the fruit was on the vine.
I long for unplucked branches
and the scent of clementine,
for every golden memory
my thoughts of you define.
I gather these around me now,
reminded you are mine
in grief and grace, through time and space,
sweet fruit of God's design.
∞§∞
"Resting on the roots of this old oak, I lean back against his knotted trunk, shine my granny smith on my sleeve, and ponder the golden days…"
Kellie Elmore
"Memories warm you up from the inside. But they also tear you apart. 
Haruki Murakami
"The past beats inside me like a second heart."
John Banville
"Nothing is ever really lost to us as long as we remember it."
Lucy Maud Montgomery
"Tears…Rise in the heart, and gather to the eyes in looking on the happy autumn fields, and thinking of the days that are no more."
Alfred Lord Tennyson
"Songs and smells will bring you back to a moment in time more than anything else. It's amazing how much can be conjured with a few notes of a song or a solitary whiff of a room. A song you didn't even pay attention to at the time, a place that you didn't even know had a particular smell."
Emily Giffin
For more of my poems about death, loss and grieving, click here.
Tags: death, death of a child, grieving, holiday grief, memories, mourning