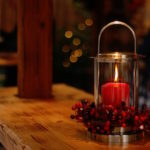 ©2018 Susan Noyes Anderson

image by Mariana B on Unsplash
I thought the holidays would be
a time of grief and misery,
a stark reminder of our loss,
a multiplying of the cost.
I braced myself to bear new weight
of pain already far too great,
prepared myself as best I could
to find each little spark of good.
An unexpected gift appeared,
the sadness softer than I feared,
the mourning I could not erase
sweetened by gratitude and grace.
For God has blessed me, in His might,
and magnified the season's light:
Thanksgiving is a source of joy
when sorrow threatens to destroy.
And Christmas stands a witness sure
that through His love, we will endure.
God sent His Son to save all men,
and all who die will rise again.
Each sacred blessing of this time
reminds me of Christ's gift sublime.
And I will treasure, come what may,
the promises of Christmas Day.
For more of my poems about death, loss and grieving, click here.
Tags: death, grieving, holiday grief, holidays, mourning, resurrection