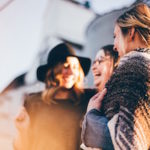 image by Priscilla Du Preez
It started with Moonlight
and Valentino and candles,
with life rushing by
us, eroding our
edges too fast.
We were swept up by life.
We stepped out of the flow.
Life was swept up by us.
We stepped into ourselves.
Reaching back to our
sisters and centers,
we sistered and centered.
It was two nights in
Santa Cruz,
three golden days.
Enough/not enough
time, a touchstone,
a weekend, a lifeline.
∞§∞
"For there is no friend like a sister in calm or stormy weather. To cheer one on the tedious way, to fetch one if one goes astray, to lift one if one totters down, to strengthen whilst one stands." –Christina Rossetti
"A sister is a gift to the heart, a friend to the spirit, a golden thread to the meaning of life." – Isadora James
"A sister is a little bit of childhood that can never be lost." –Marion C. Garretty
"A sister is one who reaches for your hand and touches your heart. Sisters are for sharing laughter and wiping tears. –unknown
SaveSave
SaveSave
SaveSave
SaveSave
Tags: bonding, centering, family ties, grounding, sisters