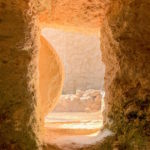 ©2017 Susan Noyes Anderson

image by Pisit Heng on Unsplash
Easter means more to those who know
the echo of a voice unheard,
the sound of silence in the air,
the loss that leaves no parting word.
Spring sings more to the broken heart,
the empty hand, the yearning eye.
Rebirth gains value in the dark,
when one bright sun deserts the sky.
Christ comforts more the grieving soul,
the walking wounded, seeking much;
redeems from an eternal sleep
the ones they love but cannot touch.
∞§∞
"Our Lord has written the promise of resurrection, not in books alone, but in every leaf of springtime." –Martin Luther
"In certain situations, as in great suffering and illness, death comes as an angel of mercy. But for the most part, we think of it as the enemy of human happiness. 'I am the resurrection, and the life,' spoke the Master, "He that believeth in me, though he were dead, yet shall he live: And whoever liveth and believeth in me shall never die.' This reassurance––yes, even holy confirmation––of life beyond the grave could well provide the peace promised by the Savior when He assured Hs disciples, 'Peace I leave with you, my peace I give unto you: not as the world giveth, give I unto you. Let not your heart troubled, neither let it be afraid."
–Thomas S. Monson
"The empty tomb that first Easter morning was the answer to Job's question, 'If a man die, shall he live again?' To all within the sound of my voice, I declare, if a man die, he shall live again. We know, for we have the light of revealed truth…My beloved brothers and sisters, in our hour of deepest sorrow, we can receive profound peace from the words of the angel that first Easter morning: 'He is not here: for he is risen!" – Thomas S. Monson
For more poems of my poems about death, loss and grieving, click here.
SaveSave
Tags: Christ, death, Easter, grieving, holiday grief, loss of a child, peace, resurrection