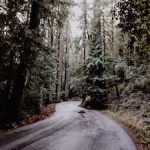 ©2012 Susan Noyes Anderson

image by Michael Ramey on Unsplash
Life is a wet and dreary road,
oft traveled with a heavy load.
I rarely mind the soggy view
because I'm seated next to you.
These forty years, you've had my side.
Sometimes, it's been a crazy ride.
We've chugged up hills with flashers on,
then hurried down, our brakes quite gone.
Of course, we've shared our sunny days,
breathtaking views, and blithe byways.
We've splashed through puddles with a song
as, merrily, we rolled along.
We've crossed high altitudes and low,
sped up too fast and crept too slow,
taken roads that others spurned,
twisted when we should have turned.
Through all the sunshine and the rain,
'mid fields of pleasure, mists of pain,
our headlights kept us safe and bright
against the darkness of the night.
O'er peaks and potholes, we have learned
that true companionship is earned,
that tolls are tolls and must be paid,
and detours (mostly) are self-made.
The past is precious in our hearts.
So many stops. So many starts.
This history is yours and mine,
but we're far from the finish line.
Let's mark this anniversary
by looking forward. Can you see
beyond the hill, around the bend?
We're two for the road that has no end.
Tags: anniversary, commitment, love, marriage