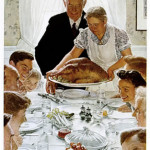 ©2011 Susan Noyes Anderson (Image by Norman Rockwell)
We gather together to ask the Lord's blessing,
for richly He's blessed us, in years now gone by.
The warmth of our hearth and the love of our family
are more than good fortune; they're gifts from on high.
Beside us to guide us, His hand reaches o'er us…
protecting, directing…our good He secures.
No matter the storm or the tempest that threatens.
in Him are we anchored, and safety endures.
With love do we praise Him and ever extol Him,
our Rock and our Anchor in days that are past.
We trust Him today, and we'll trust Him forever,
until at His feet, we are gathered at last.
first picture is by Norman Rockwell
last two pictures are by Greg Olsen
first line of poem from hymn of the same name
Tags: blessings, Christ, discipleship, God, gratitude, thanksgiving