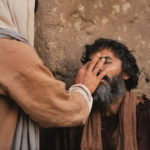 ©2021 Susan Noyes Anderson (text only)
image owned by Church of Jesus Christ of Latter-day Saints
We do not see thee;
we are blind, and yet
we feel thy hand.
Thou touchest us
in ways the eye
will never understand.
The heart alone can feel
thy lifting, only the
soul can know.
Thou art a saving presence
in the heavens
and here below.
When we would stumble,
we are held, raised up
when we would fall.
Thy love abounds,
surrounds us, Lord;
cleanses us of gall.
By grace astounded,
we give thanks.
Thou art over all.
∞§∞
In the sense that we on earth see only "through a glass, darkly," we are indeed blind. By the grace of God we can see more clearly in this life, and what a great blessing that can provide. If this poem holds meaning for you, you might also enjoy reading How Excellent Is Thy Name and Thanks Be to God.
Many other poems of thanksgiving may be found by clicking here.
Tags: blessings, discipleship, grace, gratitude, praising God, thankfulness, thanksgiving