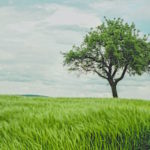 ©2021 Susan Noyes Anderson

image by Johann Siemens on Unsplash
You said I was your giving tree,
my foliage tendered to your need:
the branches and the greenery,
the trunk sliced deep enough to bleed.
You thanked me with an air of shame
and vowed that you would never sit
upon my stump; but son, no blame
was called for, not one twig of it.
As mother, each sweet sacrifice
was yielded freely and with joy.
I was not stripped but magnified
by every gift to you, my boy.
And now that you have closed life's door,
come sit upon my stump; it brings
a bliss my heart seeks all the more––
your spirit, borne on angel wings.
∞§∞
"Come boy, sit down. Sit down and rest."
And the boy did.
And the tree was happy.
– Shel Silverstein, The Giving Tree

If this poem resonates with you, you might also relate to
"A Promise Kept"  and "The Boy in You."
Tags: a mother's love, angels, child loss, death, giving, giving tree, grief, selflessness