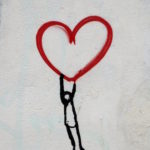 A Post-Election Valentine
©2020 Susan Noyes Anderson
image by Nick Fewings on Unsplash
This brand-new poem I will define
as post-election valentine.
We've all fought hard; we've all fought long,
but now it's time to sing the song
of healing and of dignity,
of knowing who we need to be.
For we are needed, one and all,
to save each other from the fall
that must accompany a nation
focused on recrimination.
If you've won, show grace and gladness.
If you've lost, then feel the sadness,
hope your worst fears are for naught,
and try hard not to stir the pot.
Glance back four years in reverse.
Some felt joyful; some felt cursed.
We've all been on both sides now.
Might we not consider how
divisiveness has worked for us?
We gained nothing by animus,
and problems were not solved by hate.
What happened to friendly debate?
Progress is made when we decide
to listen to the other side…
and more, to listen with respect,
all rights and freedoms to protect.
Let's face it. We all want the same…
a home, a family, a good name;
and compromise must be the key
to being all that we can be.
Let's open minds, avoid extremes,
and stay away from nasty memes.
Research both sides of arguments.
Compare the view your side presents
with what the other side has seen.
The truth lies somewhere in between.
Then hold the media to account.
Show them honesty does count.
Read both New York Times and Post.
Fox or CNN? Watch both!
Take it all in, then decide.
Don't just listen to one side.
Honor "on the other hand…"
Hear, and try to understand.
We can't see through other's eyes,
but we can halt our own demise
by looking to the human heart
instead of tearing it apart.
Good folks voted for both men.
In four years, we'll vote again,
ballots cast for our good reasons,
based on our own lives and seasons.
Judgment should not be assigned,
for we can't know another's mind,
Nor should we claim stupidity
in someone who votes differently.
So what to do now? Be a light,
remembering ours is a fight
for freedom, justice, peace, and trust.
It can't be won by half of us.
Together, we must find a way
to make each other's lives okay.
If you need this, and I need that;
why not give up the tit-for-tat
to give a little, take a little?
Meet up somewhere in the middle.
(And don't forget "In God We Trust."
He's better at this stuff than us.)
You don't believe? Okay, that's cool.
Could you hang with the golden rule?
"Do unto others" is bias-free
and deepens our humanity.
Can we be healers? Sure we can,
supporting others and this land.
From shining sea to sun-warmed shore,
let's prove that we can all do more
to help this country serve our need,
for freedoms are not guaranteed;
and we may lose sight of the prize
if we malign and demonize
the ones with whom we disagree.
Trade hate for healing. Let it be.
America needs harmony.
If this poem resonated with you, you might also enjoy reading "The Power is Ours."
Tags: 4th of July, America, division, election, freedom, independence day, patriotism, united we stand, unity