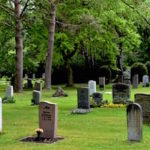 ©2020 Susan Noyes Anderson

image by Waldemar Brandt on Unsplash
Sometimes, I think of your body,
sunk deep in the earth.
I look at your grave and imagine
the wood crate below.
I try not to wonder and yet
I cannot help but wonder
how much flesh is left, and
how long it will take that to go.
It's odd, but I find myself wanting
your bones to be clean now,
too clean for more decomposition,
made holy by time.
Let each one be shining
with all of the love of creation,
when first your frame nested
to grow in the center of mine.
I know they're just leavings; I do,
but I still hold them sacred.
A marvel, the way those bones
anchored your spirit inside.
They held up your skin to perfection,
sheer grace in the carriage,
smooth pillars so artful that
this mother's heart swelled with pride.
I dream up a small one to keep
in my room with that locket,
the one with your springy hair
carefully folded within…
one branch of the birch that
no longer has roots in my garden.
One twig to reprise almond leaves
singing songs in the wind.
If this poem resonated with you, you might enjoy reading another poem on the subject,  Grave Concerns. Find more poems about grieving and loss by clicking here.
Tags: bereavement, burial, child loss, death, grave, graveyard, grief, mourning