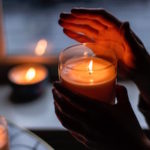 ©2020 Susan Noyes Anderson

image by Rebecca Peterson on Unplash
A question in grief group last week gave me pause,
"Are you struggling more now, with Covid the cause?"
Answers varied, and yet most replies shared a thread:
We were already maxed-out on grieving our dead.
Losing children had broken us, brought us so low
that in truth, there was not that much further to go.
We reported a certain resilience of mind;
steeped in loss, were we one step ahead of mankind?
Surreal was our world view and lonely our road.
We knew how to walk it, despite the new load.
For us, normal ended when our children died.
Now we felt less alone; Covid bridged the divide.
The mood had turned bleak, so I opened my heart
with spiritual truth I have known from the start.
I spoke of the healing and peace that are found
in the arms of our Savior, where blessings abound.
"We'll grieve for our children until this world ends,
but our lives are eternal," I promised my friends.
"And God has a plan for us, born of His love.
His footsteps will lead us to heaven above."
I don't know it landed; I pray that it did,
for God, only God, knows the way through Covid.
Is there a new normal, more bridges to cross?
Will the world learn of Him as we move through this loss?
Are we called to His service? Our eyes see the need.
We are God's ears to hear, when we listen and heed.
We are God's gentle voice, when His good news we share.
We are God's tender heart, when we seek Him in prayer…
His hands when we comfort, His arms when we lift.
And we are God's people, when we share His gift.
May we bid our friends, in a world not quite safe,
to come warm their hands by the fire of our faith.
∞§∞
"We could warm our hands by the fire of his faith."
William E. Berrett, speaking of a beloved teacher.
If this poem resonated with you, you might enjoy reading "The Song of Grief " and "Innocence Lost." Find more poems about grieving and loss here.
Tags: adversity, bereavement, Christ, comfort, Covid, death, grief, healing, peace