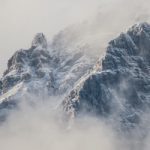 ©2015 Susan Noyes Anderson
So many mountains in my way.
They freak me out. They loom.
I'm tired of thunder every day,
of hiking through the BOOM.
Who said that a stiff upper lip
is what I have to keep?
(Though if I let my feelings rip,
the fall might be too steep.)
I'm mad in every way there is,
from anger to confusion.
I can't take much more of this shiz.
This heart and I are losin'.
We're skippin' beats and changin' rates,
(a not-too-pleasant notion).
My ticker hiccups, percolates,
and fish-flops with emotion.
I want to do the things I do
as mother, daughter, wife.
But overbooking by my crew
is messing with my life.
My people's bad things come in threes,
or maybe fives…or tens.
Of late, they get knocked to their knees
and then get knocked again.
But they're the ones I care for most.
So cross your fingers, will ya?
I'm not gonna desert my post;
but man, this stuff'll kill ya!