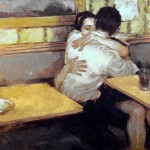 ©2013 Susan Noyes Anderson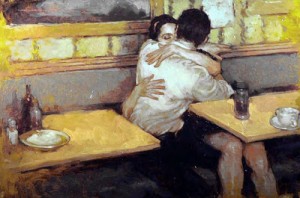 Image by Joseph LoRusso
Sometimes, in a cafe,
he gets hungry for
the red plate special.
Don't make him blue.
Kiss him silly, till he
can't even smell
the food
for want of you.
∞§∞
Ever tried the blue plate special at your favorite restaurant? It's usually the choice of the day, the one the guy in the kitchen has infused with that extra little something, that "Je ne sais quoi" that keeps his enthusiastic fans coming back for more. Isn't that a perfect analogy for love?
Of course, the poet must always have some creative license, right? And a red plate seems so much more compatible  than a blue one, when it comes to that warm and wonderful emotion we call love.  I'm sure you will agree, as well, that love always wins out over food…or at least, almost always.
Tags: blue plate special, kisses, love, passion, romance