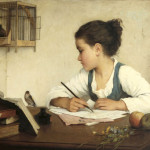 ©2013 Susan Noyes Anderson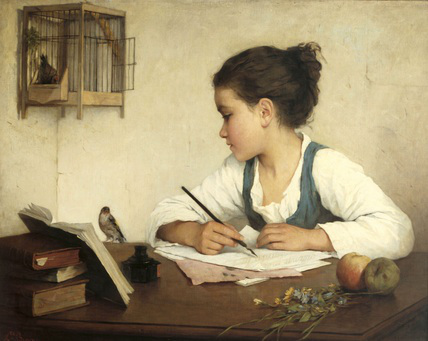 A little bird flew in my window,
much to my surprise.
He watched me rather quietly,
a question in his eyes.
 So bright and shiny was his gaze,
that mine was captured, too.
I simply could not wait to see
what he proposed to do.
He trilled a song of such delight
my heart was swept away.
"Come, fly with me," he chirped with glee,
"'tis such a lovely day."
 My spirit soared to join him as
we left the room behind.
O'er trees and hills and flowered fields
we fluttered through my mind.
 The air could not have been more sweet,
the company more charming.
Who knew a woodland friend could be
so utterly disarming?
 But all enchantment has its end,
though nature casts her spell.
"Stop daydreaming," my mother called.
And back to earth I fell.
∞§∞
If you enjoyed this poem, you might also like The Magic Tree.
For more poems, be sure to check the Related Poems
section below (under my social media buttons).
Tags: birds, books, children, dreams, imagination