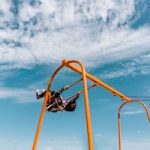 How Do You Like to Go Up?
©2013 Susan Noyes Anderson (poem only)

image by Vika Strawerrica on Unsplash
How do you like to go up in a swing?
Pump your legs or be pushed?
Take it slow or take wing?
How do you like to consider the sky?
Safe and sound, from the ground?
Perched in trees, eye-to-eye?
There's no right or wrong way to take in the view.
Embrace, grace, or chase life.
It's all up to you!
∞§∞
This little poem is a nod to Robert Louis Stevenson's poem,"The Swing."
Tags: freedom, fun, joy, life, playing on a swing