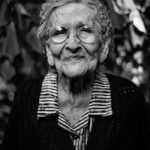 ©2013 Susan Noyes Anderson (poem only)

Photo by Danie Franco on Unsplash
My grandma always told me
attitude was everything.
Each point of view was mine to take:
my choice to sigh or sing.
Whenever I was feeling blue
or found myself bereft.
She said, "Don't dwell on what you've lost;
embrace whatever's left."
The bright side found her every time.
Her heart was open wide.
She gathered sunshine where she could
and carried it inside.
My grandma braved her share of storms
but counted herself blessed.
Be grateful for the things you have;
forget about the rest.
∞§∞
"Attitude is a little thing that makes a big difference." – Winston Churchill
"Attitude determines the altitude of life." – Edwin Louis Cole
"Most folks are about as happy as they make up their minds to be." – Abraham Lincoln