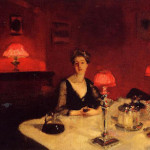 La Plainte de la Grande Dame
©2012 Susan Noyes Anderson

Image: A Dinner Table at Night by John Singer Sargent
We always dressed for dinner then,
lithe hostesses of peerless men
whose dreams were second to their pride.
So much to lose; still more to hide.
Our repartee was quite adroit,
and we were easy to exploit,
well-groomed for lives of grace and ease
by mothers who knew how to please.
Like sparrows feathering a nest,
we preened our way through every test–
glittered in gowns of ennui–
fancier than we were free.
∞§∞
Happily, the days of a woman not being able to own property , inherit, or take care of her interests in the world are gone, but this grand dame and her friends were almost entirely at the mercy of the men in their lives. They were prepared from birth to become the kinds of daughters and wives that would do their fathers and husbands credit, and for the most part, they acquitted themselves admirably. However, they lacked the freedom to self-determine, and all the beautiful gowns, French lessons, and soirees imaginable could not compensate them for that loss.
"A wise woman refuses to be anyone's victim." – Maya Angelou
"I do not think, sir, you have any right to command me, merely because you are older than I,
or because you have seen more of the world than I have; your claim to superiority
depends on the use you have made of your time and experience." – Charlotte Bronte
"I do not wish women to have power over men, but over themselves." – Mary Wollstonecraft