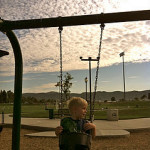 ©2011 Susan Noyes Anderson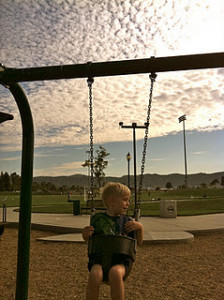 The sky is in fluffy white pieces today…
a drift-covered mountain, aglow.
Watch me hike on the wind!
As my swing flies away,
I can bury both feet in cloud snow.
Isn't cloud snow a delightful image? And this little girl has certainly planted her feet firmly in it! To be honest, it makes me want to go right out to the park and see how high I can get…but I fear I am somewhat more earthbound these days than I was in the fond memories that prompted this poem. Thanks for visiting, and be sure to check the Related Posts (just below my social media buttons).
If you liked this poem, you might enjoy reading Riding the Wind.
Tags: beauty, fun, imagination, nature, swinging