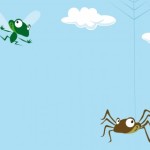 ©2011 Susan Noyes Anderson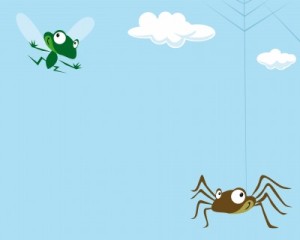 "I'm not getting any younger,"
said the spider to the fly.
"When into my web you blunder,
could you let me know you're nigh?
"My eight eyes are growing dimmer,
My eight legs are growing lame.
This arachnid's getting slimmer.
(I'm not saying you're to blame.)
"But if you would be my dinner,
it would be so awfully nice.
As a meal you'd be a winner.
You won't have to ask me twice.
"I will open wide for you, dear.
I will savor every bite.
It's a lovely thing you do, dear.
Thanks for dropping in. G'night!"
∞§∞
We've all heard some version of The Spider and the Fly, either in story or in song, and I just couldn't resist writing a little poem exploring the background. Hope you enjoy this take on the unique relationship of those two fabled insects, and that it doesn't put you off spiders entirely! It's rather hard, after all, to escape them. Just ask the fly.
Oh wait, he isn't available any longer…
If you liked this poem, you might also enjoy reading Rhymetime.