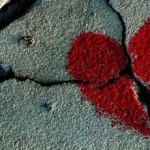 ©2009 Susan Noyes Anderson (poem only)

To every heart, a wound must come;
no soul is free from this.
Some enemy or friend will deal
a blow that breaks your bliss.
By malice or intention, born
of ignorance or whim,
one day, your trust will be forsaken––
torn from limb to limb.
And as you seek out respite, solace,
justice or redress,
beware of the false spirit that
invites you to transgress.
Lay down the sword of tit-for-tat.
Spurn battles none can win.
Revenge makes a mean ally, for
its price is your own sin.
And oh, that wound runs deeper than
the blow that cut you first,
for pain inflicted on yourself
will always hurt the worst.
When your heart aches with sorrow,
wash it in humility
and wrap it in the love our Savior
offers you and me.
The Master Healer knows the way.
He died that we might live.
If we would be forgiven, then
like Him, let us forgive.
Tags: Christ, forgiveness, healing, sadness, sin