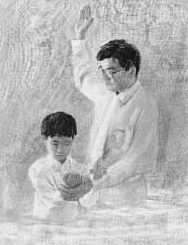 ©1981 Susan Noyes Anderson

"Today, I was baptized," the young boy said.
"Know what that means?
Dad put me underwater.
He said it would make me clean.
"No, not that kind of clean, you guys,
not like a bath would do.
I guess what he meant was clean inside…
way, deep inside of you.
"And then he put his hands up
on my head and promised me
that from now on, I'd have a friend
to love and comfort me.
"The Holy Ghost…Hey, not that kind of ghost.
Come on, you guys.
What he meant was a Spirit…
loving, kind and very wise.
"And you know what? I did feel
kinda nice and warm inside…
and special, really special,
like when someone's on your side.
"Well, that's what getting baptized means,"
the young man proudly said;
"except it means that, from now on,
I've got to use my head…
"My head, my heart and all my might
to listen to the voice
of that sweet Spirit deep inside
each time I make a choice.
"Cause Dad says that I've promised to
remember Jesus Christ,
and that's just what I'll try to do
now that I've been baptized."
Wherefore, whoso repenteth and cometh unto me as a little child,
him will I receive, for of such is the kingdom of God"  3 Nephi 9:22.
Tags: baptism, boy, Christ, discipleship, Holy Ghost, LDS, Mormon, priesthood